Grand Opening Celebration
Come celebrate the opening of our new facility on July 15, 2017! The celebration will begin at 11:00am and will be attended by special guests, Olympic gold medalist Chen Jing and her coach, Feng Mengya. There will be a free gift drawing along with snacks, drinks and fun for all ages. Children will also have the opportunity to hit the ball with Chen Jing.
Special Guests: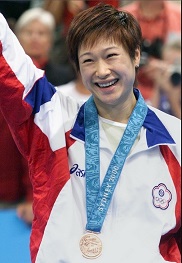 Chen Jing was born September 20, 1968 in Wuhan, Hubei. She joined the Chinese national team in 1986. In 1988 at the Olympic games in Seoul, she won the gold medal in the women's singles event and a silver medal in the women's doubles event teamed with Jiao Zhimin.
Chen Jing moved to Taiwan in 1992 and continued Olympic play on behalf of Chinese Taipei. She won the silver medal in the women's singles event at the Olympic Games in Atlanta in 1996. At the 2000 Olympics in Sydney, she won the women's singles bronze medal. Having appeared in three separate Olympics, Chen Jing acquired gold, silver and bronze medals. She is the only player to have won medals for both mainland China and Taiwan.
In 2003, Chen Jing returned to China where she is currently the head of the Chinese national team psychological research group.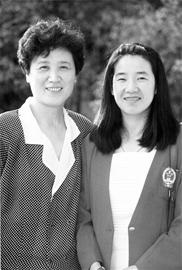 Feng Mengya was born in 1947 and is currently the vice chairman of the China Table Tennis Association.
During her coaching career, her students Chen Jing, Qiao Hong, and Hu Xiaoxin have won a combined 47 gold, 16 silver and 12 bronze medals in women's events at the Asian Games, Asian Cup, and the Chinese National Table Tennis Championships.
Due to the great success of these students, Feng Mengya is known as the "champion mother" of the Hubei province table tennis team.
Closures
We will be closed on the July 4th holiday and closed for play during our July 15th Grand Opening Celebration. There will be no league play on those dates.
New Facility
Our new facility is now open! It features 16 Butterfly Centrefold tables and new flooring, occupying 9600 square feet of space. The location is just a few hundred feet west of the former main building. (It is between the two former buildings.)
Please see our Facility page for more details and directions.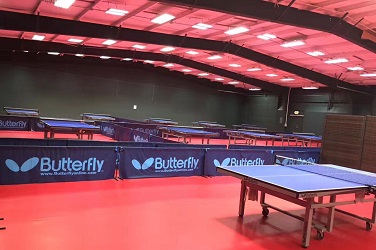 2017 Summer Break Camps
Sign up now for our 2017 Summer Break Camps. The schedule and fees can be found on our Camps page.
Upcoming SPTTC Tournaments
2017 SPTTC July Open - Bellevue, WA - Jul 22 - 23, 2017
Rate Change Notice
Effective June 1, 2017, our rates will be increasing.
1. Adult: Annual $700 + tax; Quarterly $220 + tax; Monthly $85 +tax.
2. Junior: Annual $500 +tax; Quarterly $130 + tax; Monthly $65 + tax
3. Family: $1,150 +tax; Quarterly $350 + tax; Monthly $135 + tax. (Parents plus maximum of two children under 12 years old)
4. Drop-in fees: $15 including tax
5. 10% off for seniors over age 65 for membership and drop-in only
6. Leagues Non-member: $15 Non-member junior: $10 Member: $7
Group A first place prize is $70, second place $15.00 Group B first place prize is $15
Club Rules Update
The same two players may not play on the same table for more than 30 minutes at a time. After 30 minutes of play, one or both players must leave the table and allow someone else to take their place. You are then able to use any other table when it becomes available. If you wish to play more than 30 minutes with the same player, please check with the SPTTC staff.
No coaching is allowed at SPTTC other than through official staff coaches. Anyone who is not an official SPTTC coach should use their own facilities for coaching. Violating this rule can result in your membership being terminated.
League Play Every Saturday Evening
SPTTC offers league play every Saturday night from 5:20pm - 9pm. Please visit our League page for details.
Fees: Non-Member: $15, Junior Non-Member: $10, Member: $7
King 5 News Features SPTTC
King 5 News visited SPTTC before the 2016 Olympic Games table tennis finals to learn more about the sport of table tennis. Watch the report below which includes interviews with some of our younger players and training demonstrations by our professional coaches.
Hours
Mon: 2:00pm - 9:30pm
Tue: 2:00pm - 9:30pm
Wed: 2:00pm - 9:30pm
Thu: 2:00pm - 9:30pm
Fri: 2:00pm - 10:00pm
Sat: 10:00am - 8:00pm
Sun: 10:00am - 6:00pm
Rules
Please visit our rules page to become acquainted with our general policies and open play rules.
Rates
Drop-in: $15
Drop-in Special: $11 Saturdays from 10am - 12 noon
Monthly Membership: Visit Membership page for more info
Private Lessons:
Coach Judy - $65/hr (members), $75/hr (non-members)
Assistant Coaches - $50/hr (members), $60/hr (non-members)
An additional $5 drop-in fee will be charged for non-members who wish to play after their lesson.
Please contact coach Judy to inquire about private lessons at 206-802-5473.
Address
13249 NE 20th St
Bellevue, WA 98005
Contact
Please call 425-644-7833, 206-922-9282 or for further questions.