2023 SPTTC March Open
We are pleased to invite you to join us at SPTTC for the 2023 SPTTC March Open on March 4, 2023.
Please use the link below to register. Contact us at 206-922-9282 or spttccamps@gmail.com if you have any questions.
Mid - Winter Break Camp
We are once again offering a mid-winter break program for students from Feb 20 tthrough Feb 24, 2023. Please see details at our Camps page.
After School Program
Our after school program runs on Tuesdays and Thursdays from 3-6pm. Please see our After School page for more details.
New Rules Changes
Due to the increasing number of players at the club, the following changes will go into effect starting Dec 1, 2021:
We will be open from 1 pm - 2 pm, Monday - Friday, for members only.
We will have 1 - 2 tables reserved for players at the beginner level.
Between 2 pm and 7 pm, the same two players may not play longer than one hour at any given table. After one hour, the players must vacate the table to allow those who are waiting to play. (Normal table challenge rules are still in effect.)
Saturday Night League
League play happens every Saturday night and is open to all USATT members. The basic membership is $25/year and allows participation in all USATT leagues and 0-4 star tournaments. USATT Membership FAQ
Participation is limited to 40 players with no exceptions. Registration starts at 12:00 pm on Saturday. To register, you can call the club, use Facebook messenger via Spttc, or contact the league administrator via text. Everyone needs to be registered and checked in by 4:30 pm.
As a reminder, a face mask is required when entering the club and when not at the table playing.
Used Paddles Needed
Our after school program is in need of used paddles. If you have an old paddle that you no longer want or use, please consider donating it to us and we will put it to good use! Contact Jerry Li at the front desk or email him at spttccamps@gmail.com.
Our Facility
Our facility features 16 Butterfly Centrefold tables and flooring, occupying 9600 square feet of space.
Please see our Facility page for more details and directions.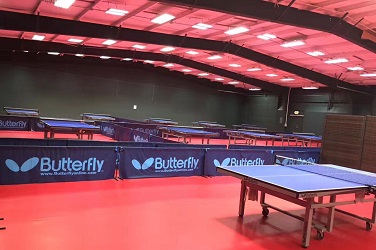 Coaching
No coaching is allowed at SPTTC other than through official staff coaches. Anyone who is not an official SPTTC coach should use their own facilities for coaching. Violating this rule can result in your membership being terminated.
Hours
Mon: 2:00 pm - 8:30 pm
Tue: 2:00 pm - 8:30 pm
Wed: 2:00 pm - 8:30 pm
Thu: 2:00 pm - 8:30 pm
Fri: 2:00 pm - 8:30 pm
Sat: 12:00 noon - 8:00 pm
Sun: closed
Mon - Fri: Members only from 1:00 pm - 2:00 pm
Rules
Please visit our rules page to become acquainted with our general policies and open play rules.
Rates
Drop-in: $16
Monthly Membership: Visit Membership page for more info
Private Lessons:
Coach Judy - $65/hr (members), $75/hr (non-members)
Coach Eric - $60/hr (members), $70/hr (non-members)
Coach Richard - $60/hr (members), $70/hr (non-members)
Coach Anna - $55/hr (members), $65/hr (non-members)
Coach Ni - $55/hr (members), $65/hr (non-members)
Assistant Coaches - $50/hr (members), $60/hr (non-members)
An additional $5 drop-in fee will be charged for non-members who wish to play before or after their lesson.
Please contact coach Judy to inquire about private lessons at 206-802-5473.
Address
13249 NE 20th St
Bellevue, WA 98005
Contact
Please call 425-644-7833, 206-922-9282 or for further questions.