2014 SPTTC Open
SPTTC is proud to announce that our Butterfly sponsored 2014 SPTTC Open tournament has been added to the 2014 North American Tour circuit. The tournament is July 26th and 27th at Bellevue College in Bellevue, WA. This is a USATT sanctioned 4 star event with $7,000 in cash prizes!
Entry forms are available here or you can register online at Omni-Pong.
Upcoming Pacific Northwest Tournaments
2014 SPTTC Open - 4 Star Tournament - Bellevue, WA - July 26-27, 2014 Under 1200 Ratings Tournament - Beaverton, OR - Aug 9, 2014 2014 Spokane Ultimate Open - Liberty Lake, WA - October 11-12, 2014
2014 Summer Break Camp

&nbsp2014 Summer Break Camp Flyer
League Play Every Saturday Evening
SPTTC offers league play every Saturday night from 5:20pm - 9pm. Please visit our League page for details.
Fees: Members: $4, Non-Members: $7
2013-2014 After School Program
SPTTC will again offer an after school program during the 2013-2014 academic year. Details are available here.
SPTTC Group Training Lessons
The purpose of this training is to improve the player's competition skills. During the training, players will engage in "pair" and "match" exercises under the guidance of our coaching staff.
All levels of players are welcome and players will be assigned to groups based on their level. Enrollment will be limited to 24 participants.
Date and Time Every Saturday, 1PM – 3PM 03/29/2014 - 06/21/2014 (except 5/17/2014)
Cost $30 / lesson. (10% discount applies when registering for 8 or more lessons.)
Congratulations to Billy Ding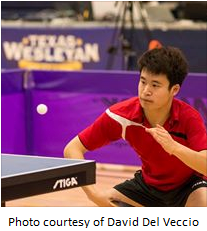 Congratulations to Billy Ding for placing 5th in the 2014 US National Team Trials!
This was Billy's second significant performance after having reached the semi-finals in the 2012 US Nationals in Las Vegas, NV.
The tournament was held Mar 7-9 in Fort Worth, TX and the top four men and women are now members of the US National Team.
SPTTC Player Competes in the Youth Olympic Trials
In the 2013 US Open held on July 2-6 in Las Vegas, Nevada, 15-year-old SPTTC player, Lucy Ma, achieved strong showings in several of her matches.
In the 2014 Youth Olympic Game trials for girls, she placed 5th after beating long-time opponents, Diane Jiang of California and Joy Li of Texas. As a result, Lucy will be traveling to New Caledonia, (a collection of French islands located in the southwest Pacific Ocean), to represent the US in competition in mid-August. She is very excited about this opportunity and is looking forward to the trip.
Lucy also played well in her other events at the US Open. She reached the top 8 for Cadet Girls (under 15) and top 16 for Junior Girls (under 18).
Later this summer, Lucy will also be competing in the 2013 World Junior Circuit and North American Championships, both of which will take place in Vancouver, Canada, from August 23 to September 1.
When talking about her recent progress in table tennis, Lucy is always thankful to the SPTTC coaches for all their coaching efforts as well as the SPTTC members who have created such a dynamic practicing environment for the younger players.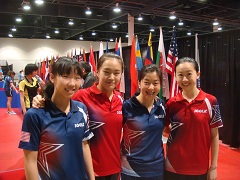 2013 US National Cadet Girls Team at the 2013 US Open. From left to right: Diane Jiang (CA), Grace Yang (CA), Lucy Ma (WA), Angela Guan (CA)
Hours
Mon: 2:30pm - 9:30pm
Tue: 2:30pm - 9:30pm
Wed: 2:30pm - 9:30pm
Thu: 2:30pm - 9:30pm
Fri: 2:30pm - 10:00pm
Sat: 10:00am - 10:00pm
Sun: 10:00am - 6:00pm
Rules
Please visit our rules page to become acquainted with our general policies and open play rules.
Rates
Drop-in: $10
Drop-in Special: $7 Saturdays from 10am -12 noon
Monthly Membership: $50 adult, $30 junior
Private Lessons:
Coach Judy - $65/hr (members), $70/hr (non-members)
Coach Liang - $50/hr (members), $55/hr (non-members)
Coach Allen Zhang - $50/hr (members), $55/hr (non-members)
Assistant Coaches - $45/hr (members), $50/hr (non-members)
Please contact coach Judy to inquire about private lessons at 206-802-5473.
Address
13407 NE 20th St, Suite 5
Bellevue, WA 98005
Contact
Please call 425-644-7833, 206-922-9282 or for further questions.